fIRST cOPY/dEMOPARTY
fOR 2o yEARS oN tHE
iSLAND oF gOTLAND
a vISION cOMING tRUE


aBOUT fORNDATA
Forndata is an old school copy/demoparty starting up in 2020. The vision is clear - keeping it old school and cool like it's 1992. The venue is a unique medieval building with halls from the 13th century, right in the middle of the World Heritage town of Visby - hence the name Forndata.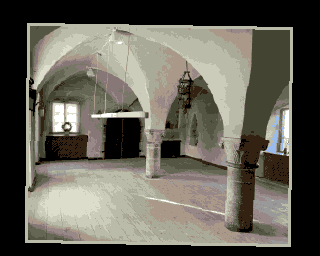 The event focuses on computers from the 80's and 90's. Present will be systems like Commodore 64/128, Amiga, PET, Spectrum, Lambda etc. We always prefer original hardware.


liVESTREAM liNK aND iNFO
Due to the ongoing pandemic we have decided to go livestream only for fORNDATA 2o2o.

You can join us on our Twitch livestream at https://www.twitch.tv/hravnkel from 13:00 (GMT+2) on saturday the 6:th of june.

We will also host a Zoom-hangout during the entire event that you can join and socialize with other sceners. Meet us on Zoom at https://zoom.us/j/91524979619


cOMPO iNFORMATION
We will run compos in the categories mentioned below. Depending on how many entries that we receieve we might combine or change the sub-categories to make compos exciting and fair. For example all 8-bit entries might be put up against each other.

We'll always try to find the original hardware and sound chip that the entries were intended for, but there will always be a limitation within what we can find. If you're planning for a more obscure release please contact us beforehand.

For the moment we have access to: Lambda 8300 + colour and 16kb modules, ZX Spectrum, Dragon 32, SVI328 and of course C64/C128 and various Amiga models.


mUSIC cOMPO
A composition made for a retro computer that has not before been published for public listening.

We accept entries for the following sound chips: Commodore VIC, SID, PAULA and also systems listed above.


pICTURE cOMPO
An original creation made for this occasion and not before released. Pixel-art, raytracing, PETSCII, ASCII or any other means of creation is accepted. Use your creativity!


dEMO cOMPO
A demo for any of the above mentioned systems that has not been released to the public before. For Amiga the following systems will be used for displaying the demo to keep the original feeling:
OCS: original A500 with 512+512kb memory
ECS: A600 with 4mb fast memory
AGA: A1200 with 4mb fast memory
We believe there are better places to release your 68060 mega demo that you have been working on for ages and even though we have the hardware suited for it we want you to work with a more limited hardware palette for this occasion.

All entries can be left as an executable file / disk or open source code like AMOS, Blitz Basic for Amiga or virtually any Basic dialect for C64 or other 8-bit computers.


rEMOTE eNTRIES
Any remote entries are welcome and the event and compos will be streamed.

Executable entries are sent to hravnkel@gmail.com before saturday, june 6 at 16:00. If you have obscure hardware please check beforehand that we can make it with tight deadline.

Code listings for 8-bit hardware must be available to us no later than monday, june 1 to give us a chance of entering and trying them beforehand.


sCHEDULE fOR lIVESTREAM
sATURDAY
13:00 - Populous Duel Compo
14:00 - Stunt Car Racer Compo
16:00 - Remote Entries Deadline
17:00 - Decathlon Compo
21:00 - Music & Graphics Compos
22:00 - Demo Compos
00:00 - Sex Games Midnight Compo


Schedule of games and other happenings might change during the course of the event but time for compos will stay. All times are GMT+2.


pRACTICAL iNFORMATION
Tickets are voluntary - we are happy for any donation we might receieve to cover fees for site and rent of equipment. More info on this soon.

Livestream link will be posted in Sofasceners Facebook group and Forndata 2020 event. Be sure to follow us there.


rEGISTRATION
[SEND IN YOUR ENTRIES BY E-MAIL TO HRAVNKEL@GMAIL.COM]


-[ wELCOME tO fORNDATA 2o2o ]-
Optimized for IBrowse




Webpage made by Hravnkel exclusively on an Amiga 3000 using Cygnus Ed, Personal Paint and HamLabPlus